Dodge Lawyers Dig Deep To Try And Get a Another AHR Deployment Lawsuit Tossed
Posted on

Tagged

Author

Source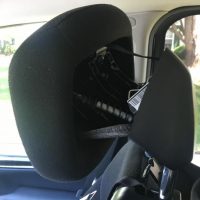 Dodge continues to try and wiggle out of active head restraint lawsuits in court. Rather than address the plea to fix the restraints that keep randomly smacking people at the base of their skull, the lawyers point to technicalities in the case that don't hold up in the Arizona Consumer Fraud and Magnuson-Moss Warranty Acts. You know, all the classics.
Keys to the motion ∞
Another approach Dodge could have taken–and hear me out here–is to try not being so hostile. For example, simply offering everyone with the same defective AHR a similar extended warranty that was given to some Durango owners late last year seems like a good place to start.
The active head restraints are, after all, deploying because Dodge and their parts supplier used a cheap plastic bracket to hold the AHR together.
More information on
carcomplaints.com
The active head restraints in some Dodge vehicles are handing out free concussions. A mechanical breakdown inside the restraint means they could deploy randomly at any time.